SECURE SHREDDING AND RELIABLE DOCUMENT STORAGE
Serving El Paso Area Since 1995
RELIABLE SERVICES AT HONEST PRICES
We work efficiently, never compromising security.
We are a locally owned and operated family business that maintains the high-level of professionalism and security that you can expect from any national competitor. We understand the needs of our customers and we offer exceptional security for document management, storage and destruction. Our start to finish process is streamlined to provide fast and efficient service you can trust.
Secure and efficient shredding at affordable prices.
Bar-coded for fast and reliable document retrieval.
SECURE DOCUMENT SHREDDING IN EL PASO, TEXAS
WE HAVE 25 YEARS AND COUNTING AS A PROFESSIONAL DOCUMENT STORAGE AND PAPER SHREDDING COMPANY IN EL PASO.
Since we own all of our equipment and vehicles, we do not have to charge any additional fees to cover these costs. Our rates are set at the true cost of the service, saving you money! We know what it is like to pay more than what something is worth and because of this, we strive to be the difference in our industry. We respect our customers and want to continue to be a reliable source of shredding and warehousing services without any hidden fees or sneaky additional costs. Contact us today for more information on our affordable prices for superior document storage and shredding services today.
OUR EFFICIENT, STREAMLINED PROCESS INCLUDES

100% of the material is recycled into other paper products.

CERTIFICATE OF DESTRUCTION
We provide you with an official certificate of destruction for your records.

We offer easy and affordable per box pricing for document destruction.

All of our equipment is owned therefore saving you additional hidden fees.

Our off-site facility offers secure document shredding in an industrial shredder.

SUPERIOR CUSTOMER SERVICE
Exceptional paper STORAGE, shredding and recycling services in El Paso and area.
We understand the needs of our customers and we offer exceptional security for document management, storage and destruction.
"Thank you for the excellent customer service. Scott Medlock and myself highly recommend Sun City Shredding for file storage and paper shredding. Great facility and most importantly superb customer service. Thank you again. We look forward to our next visit. Thank you once again." -Valerie
WE ARE PROUD TO BE A PART OF THESE ORGANIZATIONS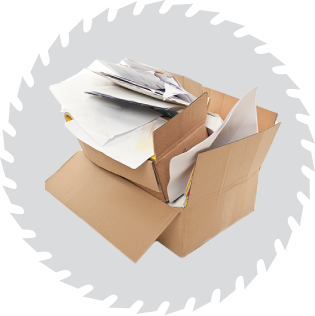 WE OFFER DAILY WALK-IN SHREDDING - Available January 5, 2021
As of January 5th, 2021 we will offer walk-in shredding daily from 8:30am to noon. Whether you are a small business or residential customer, you can drop-off your documents for secure shredding at our location 9230 Billy The Kid St. El Paso.
WE OFFER PROFESSIONAL DOCUMENT STORAGE AND PAPER SHREDDING SERVICES AT AN EXCEPTIONAL PRICE