RELIABLE DOCUMENT STORAGE AND MANAGEMENT
Document storage provides fast access to any box in the warehouse.
Having your company's documents securely stored and managed can free up space in your office for more employees, or organize your working environment for a smoother day on the job. Oftentimes, paper records are highly valuable to have on hand as a reliable record of transactions and in some cases, required by law. We provide professional document storage and document management within our 103,000 square foot storage facility. We currently store over 200,000 boxes that are all neatly organized and Bar-coded for fast and reliable document retrieval.
We provide fast and efficient file retrieval
We also provide the option of warehousing your documents in our large storage facility, where everything is neatly Bar-coded and indexed for same day retrieval upon request. Our standard files boxes are 10" high x 12" wide x 15" deep = 1.04 cubic feet in total. We only charge per box for efficient and fast file retrieval. Keeping all the boxes the same size allows us to efficiently store all the boxes. This allows us the fastest access to any box in our warehouse, for the fastest service possible. We can store anything non-hazardous, as long as it fits in a standard size box (10x12x15).
HONEST PRICING THAT'S MORE AFFORDABLE
Our company remains more affordable and organized than anywhere else. Unlike our competitors, who often charge by cubic foot for storage, we choose only to charge per box stored, which is more fair to the customer. This is another example of how our company is committed to being the difference in the market of shredding and document storage services in El Paso. If you have any questions on any of our services, please contact us today!
Our full service document management includes proper handling from start to finish.
Documents are picked-up by our insured employees and transported to our document storage facility.
Documents are indexed by bar-coding and photographing each box for easy file access.
Boxes are stored in our 103,000 sq ft storage facility. 24/7/365 surveillance with armed guard.
Contact us to schedule your next secure document pick-up. With our flat rate per box prices, the cost includes the entire process. Call (915) 542-3030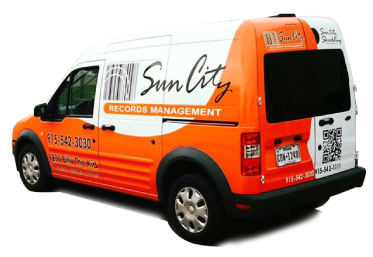 Document pick-up process is secure and convenient.
Fast and efficient service you can trust.
WE OFFER PROFESSIONAL DOCUMENT STORAGE AND PAPER SHREDDING SERVICES AT AN EXCEPTIONAL PRICE