SERVING OUR COMMUNITY SINCE 1995
Uncompromised compliance & security.
It's not wise for an individual, business or government office to simply throw away old documents, uniforms or electronic media—and in many cases, it's illegal. You also want to guard your company's own sensitive information. A host of federal and state regulations call for the secure destruction of certain kinds of information, ranging from customer's Social Security numbers to medical records and other industry-specific data. The risk of confidential information leaks only reinforces the need for ultimate security. That is why we provide our customers with high-level warehousing and/or destruction services.
We understand the risks involved, including privacy violations and legal action that can arise when sensitive information is not professionally destroyed.
What is compliance and why is it important for my business?
Many industries that deal with sensitive and high-value information, such as healthcare and financial services, have compliance requirements to ensure customer and employee confidential information is protected according to the legal and regulatory requirements. Compliance also helps minimize the risk of stolen data. This impacts small and large size organizations.
How can I ensure my business is compliant?
Reviewing and following your business practices around data and document storage and destruction will help ensure you fall within compliance standards. Working with professional companies like Sun City Records Management can help you set up a best practices plan for storing and destroying confidential information. Call us to learn more about compliance.
Certified document destruction & disposal.
Sun City Shredding offers our customers a secure shredding program that is dedicated to safe shredding at our off-site facility. Once documents are placed in our industrial shredder, the documents will be scattered and shred by titanium blades, making all material unable to be reconstructed. In the end, we provide you with an official certificate of destruction for your records. This certificate documents to whom the documents were passed to and how they were destroyed and on what date they were destroyed. For honest pricing and absolute secure document destruction and disposal in El Paso, contact us today!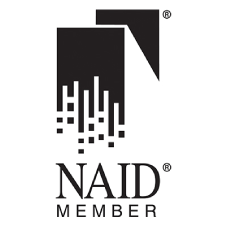 We are proud members of NAID.
NAID is a division of the non-profit trade association, the International Secure Information Governance and Management Association™ (i-SIGMA™). NAID focuses on secure data destruction and advocates for a standard of best practices across governments and by service providers as well as product, equipment, and service suppliers globally.
WE OFFER PROFESSIONAL DOCUMENT STORAGE AND PAPER SHREDDING SERVICES AT AN EXCEPTIONAL PRICE