SECURE SHREDDING AT AFFORDABLE PRICES
Eliminating security risks and confusion by bringing document shredding to your doorstep.
Shredding documents isn't as simple as using an in-house shredder and doing the job yourself or assigning it to an employee. 
Why Choose Mobile Shredding?
Office shredders come with several risks and drawbacks;  most importantly, you could expose highly sensitive records and competitive information to individuals that are not meant to see it. Not only that, these devices break down easily. They simply aren't designed to shred large volumes of documents regularly. 
Lastly, you have a legal obligation as a business owner to destroy confidential documents securely to protect customers, employees, and any other parties involved. Hiring a professional company guarantees the destruction is completed by certified individuals who adhere to the highest level of industry security standards. All documents will be 100% obsolete for good. Therefore, you can rest assured that your company is staying compliant with crucial privacy legislation, should you ever be audited in the future. 
At Sun City Shredding, customers have the option of on-site mobile shredding and off-site facility-based shredding services.
However, our mobile on-site shredding service is a favorable solution among many customers because it doesn't require you to transport files off-site. When you choose on-site shredding for the secure destruction of your documents, our mobile truck comes directly to your location, saving you time, money, and hassle. 
Key Advantages of Mobile, On-Site Shredding
Highly Secure form of Document Shredding
Mobile on-site shredding is an ideal service option for both residents and businesses seeking shredding solutions they can depend on. A mobile shredding company like Sun City Shredding, has the experience and proper equipment to dispose of documents in a legal and efficient manner.
One of the benefits of using a mobile shred truck is the ability to watch the shredding process. Watching adds an additional layer of security that is only available with mobile shredding services.
In addition to viewing the process, mobile shred trucks utilize one of the most secure methods for shredding paper called pierce and tear shredding. Using a pierce and tear shredding method uses several rotating blades with alternately rotating shafts that both pierce the paper and tear it apart. This approach results in very small, roughly shaped shredded paper rather than long strips of paper that could potentially be put back together.
Fast, Convenient Service Right at Your Doorstep
Mobile shredding offers customers the ultimate convenience. A representative arrives on site via a mobile shred truck and completes all the heavy lifting for you. There is minimal interruption in your day and little ask of you. We never require you to remove staples, rubber bands, or clips from files. Our shred trucks are more than capable of shredding through these items effortlessly.
Enjoy the benefit of not having to lift, stack, and transport heavy boxes full of paper off-site. Since our mobile shredding service is just a phone call away, we come to you as often or as little as you prefer. This allows for a truly flexible shredding program.
Cost-Effective Option for Large Shredding Needs
While both on-site and off-site shredding services are cost-effective, there may be higher savings with mobile shredding; that's because, if you reach over 100 lbs of paper, you are charged per pound with drop-off shredding. On the other hand, our mobile shredding service is a flat fee regardless of whether you have a few boxes to shred or numerous containers. With this in mind, mobile shredding is typically a more popular choice for larger volume shred jobs.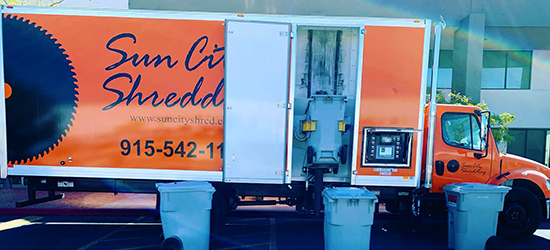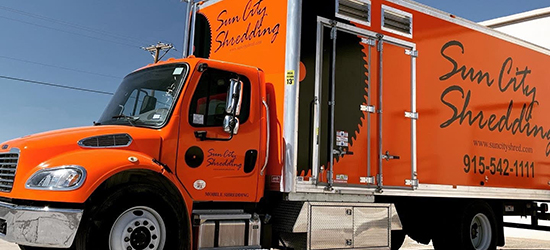 Our Mobile Shredding Process
We provide efficient service you can trust.
Contact Our Team and Determine Shredding Schedule
Reach out to our team, and we will take a close look at your current document disposal habits, your budgetary needs and any other factors that are of consideration. Based on this information, we'll happily provide our clients with a free, no-obligation quote. Our team will also discuss with you the importance of security containers, determining the number and type of container that would be most suitable for your needs. These are entirely complimentary and included in the cost of your shredding services.
You decide what shredding schedule is ideal for you; we can provide weekly, bi-weekly, or monthly shredding services directly at your location, depending on the volume of documents and your predetermined budget. Our mobile shredding solutions cater to your needs! 
Complimentary, Lockable Security Containers Delivered to Your Location
Document security is a priority at all times. Prior to shredding, your business needs a reliable means of disposal that ensures total confidentiality. Through the use of lockable security containers, you can have peace of mind that all sensitive files will remain secure and untouched until our technicians arrive to perform the shredding process. 
In fact, we'll deliver these complimentary containers directly to your location and assist in placing them throughout your workplace. We suggest having them available in high-traffic areas where bins are accessible to all. On your day of service, our uniformed technician will arrive on-site, empty your containers, and securely transport the contents to one of our mobile shredding trucks to carry out the destruction.
Clients are welcome to witness the shredding take place right then and there. 
Sun City Shredding Arrives at On-site to Perform Shredding
At the time of your scheduled shredding appointment, you can expect a Sun City Shredding technician to arrive at your location, where all material is immediately loaded into the high-security mobile shredder and destroyed in a matter of seconds. Following completion, customers receive A Certificate of Destruction, indicating all records were destroyed professionally and according to industry standards.
100% of the paper particles leftover are recycled.
WE OFFER PROFESSIONAL DOCUMENT STORAGE AND PAPER SHREDDING SERVICES AT AN EXCEPTIONAL PRICE